Axis Direct Account Overview: Axis Direct is a full-service retail broking brand of Axis Securities Limited, a subsidiary of Axis Bank.
The full-service value-added services include.
Equity trading
Derivatives trading in equity, currency and commodity F&O
Advisory services (small portfolio & MF)
Mutual funds & IPO investment
NCD, Bonds & Company FDs
Tax planning services
Loan & General insurance products
After a strong start, the brokerage house lost steam in comparison to peers like ICICI Direct, HDFC Securities and Kotak Securities.
Axis Direct services are of average grade, so you should think of opening a trading and Demat account with Axis only if you already have an existing banking relationship with Axis Bank and you're ready to pay high brokerage charges.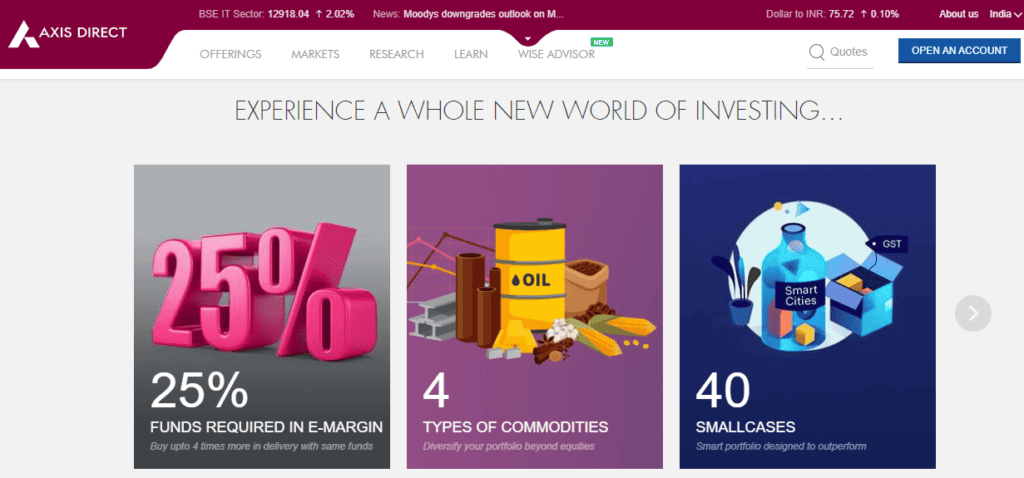 About Company
Axis bank is the 3rd largest private sector bank in India with more than 20 million customers.
Axis direct is a full service broker that allows you to invest as well as trade in various asset classes such as Equities, Derivatives, IPOs, Mutual Funds, Bonds and ETFs.
You can invest in various exchanges in India like NSE, BSE, MCX-SX and MSEI.
You can also invest in US stocks as Axis direct has started the US stock investment facility through Vested Finance. Axis direct is in partnership with Vested Finance to provide US market access to their clients.
Axis direct also offers tax savings investment solutions to their clients. 
Axis Direct Brokerage Charges
Axis Direct has four brokerage plans with different brokerage charges.
Two of the plans, namely AP1500 plan and NN5555 plan offer special lower brokerage (minimum 1 paise per share) when you achieve a minimum of Rs. 3 Lakhs and Rs. 12 Lakh of delivery turnover.
The Axis Direct charges under each plan are mentioned below.
Plans
Prosperity Plan
499 Plan
Investment Plus
AP 1500 Plan
Now or Never
NN5555 Plan
Fixed Brokerage Plan
SA75000 Plan
Complimentary Delivery Turnover (CDT)
NIL
Rs. 3 Lakhs (buy + sell)
Rs. 12 Lakhs (buy + sell)
NIL
Special brokerage rate validity period
N.A.
6 months
12 months
N.A.
Brokerage under CDT/ special plan period
N.A
Minimum 1 paise per share
Minimum 1 paise per share
N.A.
Brokerage Rates (Post Utilization of CDT)
Plans
Prosperity Plan
499 Plan
Investment Plus
AP 1500 Plan
Now or Never
NN5555 Plan
Fixed Brokerage Plan
SA75000 Plan
Equity Delivery
(each leg)
0.50%
0.50%
0.25%
Rs. 20 per executed order
Equity Intraday
(each leg)
0.05%
0.05%
0.03%
Rs. 20 per executed order
Futures
(each leg)
0.05%
0.05%
0.03%
Rs. 20 per executed order
Options
(each lot/ leg)
Rs. 20
Rs. 20
Rs. 20
Rs. 20 per executed order
SA75000 brokerage plan is the best plan with a charge of Rs. 20 on all the segments.
But, the SA75000 brokerage plan is available only to the prime customers who can maintain an average quarterly balance of Rs. 75,000 in their savings account.
If you fail to meet the minimum balance criteria then Axis Direct will downgrade your brokerage plan and charge a fee of Rs. 500 for the downgrade.
You have access to the "Call to Trade" facility where the first 20 calls are free of cost after which you need to pay Rs. 20 per call.
Axis Direct Margins Provided
Axis Direct offers customized plans to its clients based on their banking relationship, risk capacity and past trading experience. You can negotiate the leverage offered at the time of account opening.
You can get higher leverage if you have past trading experience and maintain a decent balance with Axis Bank.
Generally, new traders can expect Axis Direct to offer below margins.
| | |
| --- | --- |
| Segment | Margin |
| Equity Delivery | 4X |
| Intraday Equity | Up to 50X for CO depending on the stock |
| Equity Futures | 4X |
| Equity Options | 2X |
Axis Direct Annual and AMC Charges
Axis Direct charges a high 3-in-1 account opening charges and AMC (Rs. 750 per year) which increases the overall cost of trading for new investors.
Particulars
Fees
3-in-1 Account Opening Charges
Prosperity Plan – Rs. 499
Investment Plus/AP1500 Brokerage Plan – Rs. 1500
Now or Neve/NN5555 Brokerage Plan – Rs. 5555
Fixed Brokerage Plan/SA75000 Plan – Rs. 999
Annual Maintenance Charges
For Axis Bank Customer:
First Year: Free
Second Year Onwards: Rs. 750

For Non-Axis Bank Customer:
First Year: Rs. 350
Second Year Onwards: Rs. 750
Axis Direct Demat & Trading Account Features
#1. High Brokerage Charges
The trading cost at Axis Direct is very high for a new stock market investor. 
Here you are charged a percentage-based (0.50%) brokerage fee or you need to maintain Rs. 75,000 average quarterly savings account balance for flat Rs. 20 brokerage.
#2. High Account Opening and AMC Charges
The 3-in-1 account opening fees at Axis Direct ranges from Rs. 999 at the lower end to Rs. 5555 on the higher side.
High charges are the biggest barrier for new cost-savvy traders. The high charges push them towards discount brokers like Zerodha and Upstox or bank-based brokers like HDFC Securities and ICICI Securities.
#3. Access to Wide Range of Value Added Services
The best past of Axis Direct is that you get a host of value-added service under one roof.
You can get advisory to build a small portfolio using Smart Edge and Mutual Fund advisory. Axis Direct assists you in tax planning, insurance, and get loan products.
#4. Encash (Emergency Cash) Facility
Axis Direct offers a unique emergency cash facility that offers you instant access to your money immediately by selling your existing stocks.
The money gets credited in your bank account on the trading day and you need not wait till T+2 days for settlement of the trade.
Benefits of Axis Direct Demat and Trading Account
3-in-1 trading account
Minimum 1 paise brokerage under complimentary delivery trades
Rs. 10 brokerages for option trading
Encash facility
Cons of Axis Direct Demat & Trading Account
Axis Direct squares off the position by 2:45 p.m
Up to Rs. 5555 account opening charges
High Brokerage Fee in basic plan
Axis Direct Trading Platforms
#1. Axis Direct Trade
Axis Direct Trade is a .exe based desktop operating software that needs to be installed on the desktop. The application requires Windows 7 & above operating system with 32 or 64-bit minimum dual-core processor for smooth functioning.
The application requires a memory space of a minimum of 4GB RAM and an internet speed of 60 Kbps.
You can create multiple customized watch lists and can have live streaming quotes on the Direct trade platform.
The trading platform helps you create a market watch, gives instant trade confirmations, open positions, pending order status, and MTM values.
#2. Axis Web Trading Platform
Axis Web is an HTML browser-based trading platform that works on all devices like tablets, smartphones or PC. You just need a decent internet connection to get started.
The web platform offers a clutter-free "card view" of important trade and news that helps you grasp information in a glance.
On the Axis Web, you have access to customized filters, alerts and notifications so that you do not miss any price, news or trade information.
#3. Axis Direct Ring Trading App
Axis Direct Ring Mobile App is compatible with iOS & Android smartphones. The app helps you trade-in equity and derivatives only.
Axis Direct Ring mobile app supports investment in bonds, Mutual Funds, IPO and Company FDs. You can also invest in global markets and ETFs.
Apart from that you can view live quotes, charts and create watchlists.
The app is rated average 3.0 on the Apple Store and 3.7 on the Google Play Store.
Axis Direct Account Opening Process
Axis Direct will insist you to open a 3-in-1 account. For Axis Direct account opening, you need to pay the one-time charges of Rs. 999. The savings account is opened with Axis Bank and the Demat & trading account is opened with Axis Securities Limited.
But, Axis Direct also offers you the facility to open a 2-in-1 account if you already have an existing bank account with ICICI, HDFC, Yes or SBI.
The online account opening process is only possible for KRA (Central KYC Registry) registered clients and by using E-sign.
If you are not KRA registered then you can provide details online and request for a pre-filled application form. You need to fill in the rest of the details and submit the Demat and trading account opening form at the nearest Axis Direct branches. Axis Direct has over 1500 branches across all major cities of India.
For an online account opening of Axis Direct, you can follow the process mentioned below
#1. Keep Following Documents Ready
PAN Card
Aadhaar Card
Canceled Cheque
Passport Size Photo
#2. Complete Registration and Fill Details
Step 1 : Visit Axis Direct account opening page.
Step 2 : Enter your initial details such as your name, city, mobile number and email. Click on "Get OTP on mobile".
Step 3 : Enter you PAN number and Date of Birth
Step 4 : Enter your address details and click on "Confirm & Proceed".
Step 5 : Enter additional details about your educational qualification, your occupation and trading experience. Give your consent by checking the 3 checkboxes as shown below and click on "Proceed to Bank Details".
#3. Make Payment, E-Sign and Upload Documents
Next, you need to pay the account opening fees online and E-sign your account opening application to complete the process.
Step 6 : Enter bank details and click on "Proceed".
Step 7 : Select the brokerage plan and click on "Proceed".
Step 8 : Select trading segment details and click on "Make Payment"
Once payment is made, you will be redirected to the signature upload and IPV page for in-person verification by clicking the selfie. Click on "Proceed" to e-sign the document.
Step 9 : You'll be redirected to the NSDL website to e-sign the application form by verifying your Aadhaar card online.
Step 10 : Click on Finish to complete the process. Your account will be opened within 2-3 working days once Axis completes the verification at their end.
Conclusion (Final Review)
Axis Direct's brokerage service offers hints that they are trying to accommodate all of the investor range and that is why they have a flat and percentage-wise brokerage.
There is no additional benefit of opening a Demat and trading account with Axis Direct when you have the option to go with other better full-service brokers like Angel broking, IIFL, Motilal Oswal and Sharekhan.
You can go for Axis Direct Demat and trading account only if you have an existing banking relationship with Axis Bank. You want to maintain all your financial transactions with the Axis group.
FAQs
#1. How much leverage does Axis Direct provide?
Axis Direct allows you to utilize margin as below –
| | |
| --- | --- |
| Segmet | Margin Leverage |
| Intraday | 10x |
| Delivery Trading | 1x |
| Future & Options | 1x |
| Commodities Futures | 3x |
| Commodities Options | 1x |
#2. What is Axis Direct's trading App?
Axis Direct has "Axis Direct Ring" trading app for android as well as iPhone users.
You can invest in multiple assets such as stocks, mutual funds, derivatives, currencies, commodities, IPOs and global markets.
You can also utilize 20+ real-time screeners which scan 5,000+ securities and 25,000+ contracts for your trading requirements.
#3. Is Axis Direct good for Beginners?
No. Axis Direct is good for pro traders who want high leverage and want to trade in high volumes because you have to pay 0.50% brokerage fee which is high among discount brokers like Zerodha that charges 0.03% or Rs. 20 per order whichever is lower.
If you want to go for flat brokerage, then you have to maintain a minimum balance of Rs. 75,000 in your account.
So if you are a beginner, neither you would like to pay high brokerage nor do you want to block Rs. 75,000 in your account to avoid any charges.
#4. What is an Axis 3-in-1 account?
The Axis 3-in-1 account includes the savings account, demat account and trading account at one place. That allows you to transfer money to your trading account and vice versa in a single click.
Secondly, you earn interest on your deposited money if that is not allocated for trading.
#5. How to contact Axis Direct customer care?
Through Call
For Indian citizens – 022 – 40508080 / 022 – 61480808
For NRI customers – 022 – 61480809
For commodities and currencies trading enquiries – 022-42274564
Through email
For Complaint