InvesingExpert is one of the fastest-growing websites in the Indian personal finance niche that talks about stock investment, stock trading, and financial products. InvestingExpert traffic has been hiked 87X within in last 6 months.
We readers truly love our content because we publish well-researched content so that they can make the best financial decisions. Our writers spend long hours (and days) curating accurate and useful information for our readers.
We work with multiple partners who compensate us to spread awareness of their brand or whenever a reader purchases a product.
InvestingExpert Traffic
InvestingExpert received 87000 traffic in August 2023 with a monthly growth of 39%.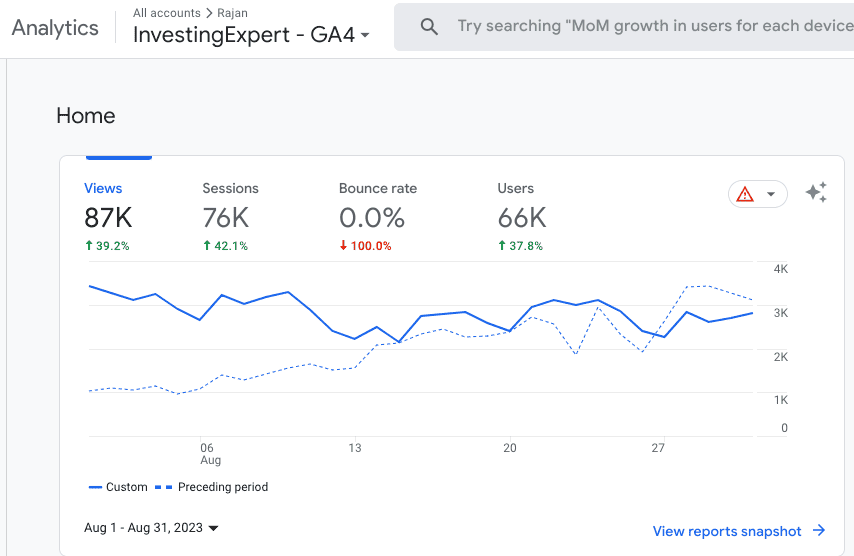 We get 95% traffic from organic search.
Advertisement Policy
Our partnership may influence where we display certain products on our website, but it does not lead us to alter the content to favor any specific product. We are committed to transparency and do not intentionally hide any information. Our content remains up-to-date, and we strive to present both the positive and negative aspects of financial products.
At times, we may hold firm opinions on how financial decisions should be made, which may not align with the views of other financial experts. Our primary aim is not to cater to the interests of banks, financial experts, or our partners. Instead, we provide content based on our experiences and grounded in financial facts, all with the goal of benefiting our readers.
In essence, even if we accept money from the partners, we retain full ownership of our content, ensuring that it is rooted in our research and understanding of the subject matter.
Advertising Process
Our team writes all the content after doing research about the company and its products.
Upon acceptance of your product, our team would start the research work and write a product review (similar to the Zerodha Review) that may range between 1000 to 2000 words depending on the product features.
Let's talk
If you wish to promote your product on InvestingExpert then…
…please send the product details at [email protected]